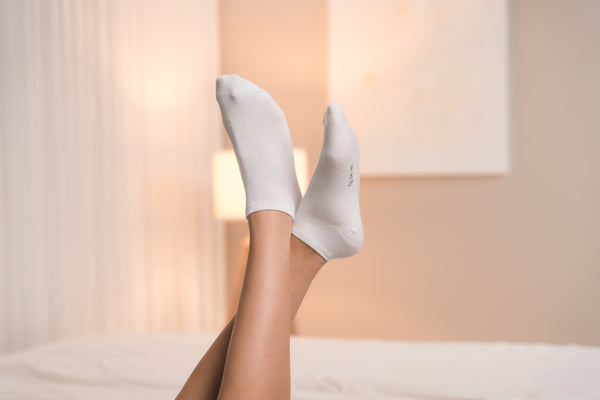 Bamboo Socks for women
Silky smooth women's bamboo socks
A pair of bamboo socks for women from Copenhagen Bamboo are wonderful to wear. The socks are incredibly soft, elastic and allow the feet to breathe. Our women's bamboo socks are available in many different styles, colors and sizes. For many of us, bamboo socks are an almost revolutionary experience because it's often the very first piece of bamboo clothing we try.
The great comfort of a pair of bamboo socks for women is very different from what we typically experience from a pair of regular cotton socks. From the very minute you put the socks on, you feel how much softer they are against your skin. It's simply amazing. But calling it revolutionary might have been an exaggeration if there weren't other advantages as well. But there definitely is. Bamboo women's socks are not only silky smooth and comfortable. They are also temperature regulating with a high degree of breathability. These socks are also antibacterial and remove sweat and moisture much more effectively than cotton or polyester. Giving you dry feet without any bad smells.

Lots of different socks for women
As mentioned, bamboo socks for women are available in several varieties. Both plain women's socks and striped ones. The classic ones with medium or long shafts are thin, light and airy. They fit well on the foot without being too tight or leaving marks on the skin. These socks go with almost everything and the colors are neutral and easy to style with any outfit. Bamboo ankle socks have a short shaft and are perfect with a pair of sneakers or sports shoes. Use them every day or for training. If you're looking for socks with an even lower shaft, check out our invisible bamboo footies and no show socks.
They are extremely low and can't be seen in a pair of shoes. A perfect choice when you are wearing low sneakers or ballerina shoes. If you like sports socks and training socks in slightly thicker quality, you should check out our selection of comfortable and timeless crew socks for women. They have a ribbed shaft in extremely comfy and stretchy quality. There's a lot to choose from amongst our women's bamboo socks. You can easily find your new favorites. No matter what you wear. Do you want a pair of women's briefs or a t-shirt in the same fantastic quality? Check out all women's clothing here.

Eco-friendly Oeko-Tex certified socks
Bamboo socks for women from Copenhagen Bamboo are made with consideration for the environment. This means that all socks are both Oeko-Tex Standard 100 and FSC certified. Certifications, like the Oeko-Tex Standard 100, guarantee products free from any unhealthy chemicals that are bad for you. Or nature. Therefore, certified bamboo socks are a better and more climate-smart choice. The method by which they are manufactured is called the Lyocell method. Today, Lyocell is the most environmentally friendly way to convert bamboo fibers into textiles.
The method is based on reusing residual products from production in a closed cycle. To make the climate footprint as small as possible. That's why at Copenhagen Bamboo we make it easy for you to find women's socks that are a good choice for your feet. As well as they are a good choice for our planet. There's no reason to compromise with either quality, comfort, style or the environment. It's smart to be picky!