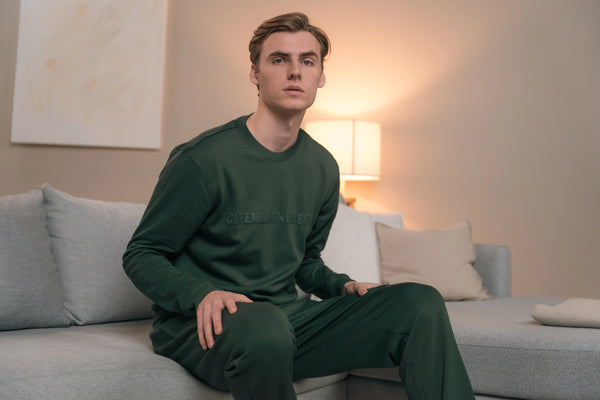 Bamboo Sweatshirt Men
Lovely soft sweatshirts for him
A bamboo sweatshirt for men is a piece of garment you never get tired of. It is a classic long-sleeved sweater, available in several different colors. The sweatshirt can be styled with a pair of jeans or sweatpants for a casual look. It's perfect for everyday use as well as training or as an extra layer when it's a bit chilly. With a stylish design in wonderfully soft bamboo viscose, organic cotton and recycled polyester, this sweatshirt will quickly become a favorite. Clothes made from bamboo have several known benefits. Something that of course also applies to our bamboo sweatshirts for men. The material is airy and helps the skin to breathe through the fabric. Bamboo's natural antibacterial and temperature-regulating properties ensure that sweat odors are effectively absorbed and that the body can maintain a suitable temperature.
Stylish and comfortable sweaters for men
Therefore, bamboo sweatshirts are both stylish and comfortable. The perfect long-sleeved shirt for men that fits well, has a stylish look and is also durable. Bamboo clothes from Copenhagen Bamboo are designed for everyday life. Casual and functional bamboo clothing made of really good materials that last a long time. And the clothes are very comfortable and super soft to wear. With bamboo sweatshirts in your wardrobe, you always have lovely basics to choose from. We also have a wide range of bamboo t-shirts, bamboo underwear and bamboo socks. Basic items like these are incredibly important and make it so much easier when you're in a hurry in the morning. Copenhagen Bamboo bamboo sweatshirts for men have a nice logo printed on the chest and are available in a lovely dark green, navy blue, dark gray and black color. Classic shades that go with everything and can be matched with both jeans, sweatpants and chinos.
Sweatshirts made from bamboo and organic cotton
Bamboo clothing such as sweatshirts and hoodies are useful in many different ways. The fact that they are also made from a mixture of bamboo and organic cotton means that the garments have a minimal impact on the environment. Which means a lot to us at Copenhagen Bamboo. Quality is always in focus and when the clothes are durable, they also last much longer. The bamboo fibers are long and consist of microscopic holes, which makes bamboo fabric elastic and durable. For example, this stretchy material quickly regains its normal fit after washing. Because bamboo is also naturally antibacterial and minimizes bad odors, the clothes don't need to be washed as often either. Which also contributes to a longer lifespan. Therefore, men's sweatshirts in bamboo are not only comfortable and stylish - but also a good choice from an environmental point of view.