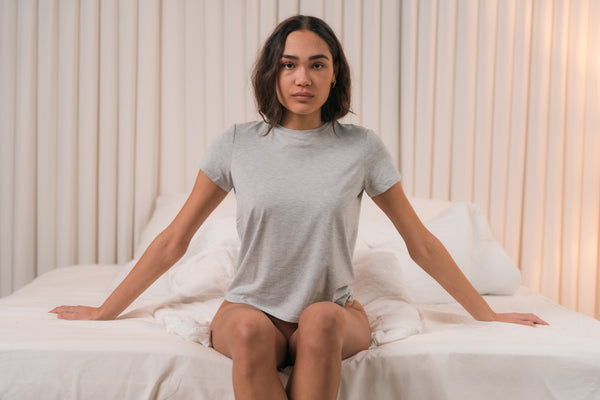 Bamboo T-shirts for women
Perfect basic t-shirts for women

Here you'll find stylish and durable women's basic t-shirts made from the softest bamboo you can think of. You can never get enough of functional basics in your closet. There should be both white t-shirts and black t-shirts in every wardrobe. Style them with a pair of jeans, shorts or a skirt for a casual look. Or use your women's t-shirt together with a stylish cardigan, sweater or shirt. A lot of people also choose to wear a bamboo t-shirt for training, yoga or as homewear.
Simply because bamboo t-shirts are so comfortable and allow the skin to breathe. The advantages of choosing clothes from bamboo are many. Above all, bamboo women's clothing is incredibly soft and comfortable to wear. The fit is relaxed and the fabric is stretchy. Bamboo textiles generally have a high breathability, which means that the skin can breathe through the fabric. It reduces skin problems such as dry skin. The style is classic and modern with a simple look that goes with everything. Simply functional, comfortable and stylish t-shirts for all women.
Antibacterial and moisture absorbent bamboo t-shirts

Bamboo is also known for its natural antibacterial properties. In other words, this means that bacteria do not thrive in materials made from bamboo. The plant also grows completely without the use of pesticides. Therefore, bamboo textiles are gentle on the skin. An excellent choice if you suffer from allergies or have sensitive skin. Bamboo is also very absorbent and moisture wicking. It can absorb up to three times as much moisture as other textiles.
When you choose to wear a bamboo women's t-shirt, you will always feel dry and fresh because sweat is effectively transported away from your skin. Please wash your bamboo clothes at a low temperature to extend their durability. Bamboo t-shirts for women actually last a very long time and quickly regain their shape after washing. This means that you can use your t-shirts longer and thus prevent unnecessary overconsumption. Something that has become a big problem in the fashion world.
Certified bamboo – a climate-smart and responsible choice

Bamboo T-shirts for women are also a good and responsible choice. If you want to make greener choices when shopping for clothes, you will find a large selection of responsibly produced basic garments here at copenhagenbamboo.com. All our clothes, including all women's t-shirts, are OEKO TEX Standard 100 and FSC certified. Certifications that ensure beautiful garments that are made with respect for the environment as well as climate. The certifications guarantee healthy products without dangerous chemicals. In addition, they ensure that the bamboo comes from certified forests where the animal and plant life is protected and preserved.
When you shop your bamboo clothes here, you can feel confident that the clothes are responsibly produced. Always. Our collections are constantly replenished with stylish pieces and the new items are always made of the same certified quality. Discover our women's bamboo t-shirts on this very page, but also don't miss out on our briefs and socks for women.