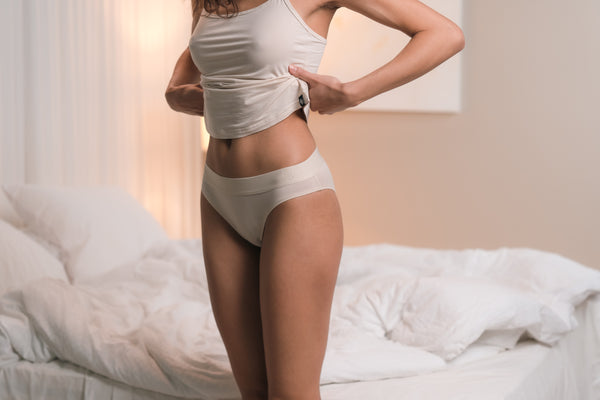 Bamboo panties
Women's bamboo panties

Copenhagen Bamboo briefs and panties for women are available in several different models and sizes. You don't have to choose between style, quality and comfort. And you don't need to compromise with environmental impact either. Our bamboo panties have a stylish design and there are models for every body shape and taste. The material consists of 100% certified bamboo, which is both soft, beautiful and airy. The OEKO-TEX and FSC certifications ensure products that are gentle on the skin as well as the environment. The OEKO-TEX Standard 100 label is your guarantee that our bamboo underwear has been tested and contains no chemicals whatsoever. The testing is not only done on textiles, but all components of a product are tested for various chemical substances. Everything from sewing threads and buttons to zippers, etc.


Bikini, full, hipster and thong

There are many types of bamboo panties to choose from. Which panties do you like best? It's a good idea to have a few different varieties to choose from. It depends on which fit you like, what makes you feel comfortable and which outfits you want them to go with. Bikini panties are similar to a classic bikini bottom with a normal waist and medium coverage. If you want a little more coverage, the full panties are a perfect alternative.
Our bamboo full panties have a high waist and very high coverage. The hipster panty is largely reminiscent of the maxi brief, but has a slightly more square shape and sporty design. The panty with the least coverage is the thong panty. A pair of bamboo thongs fit perfectly under a dress, skirt or a pair of slim fit trousers or leggings. They are invisible because there are no edges or visible sewings. All of our women's bamboo panties are made of a very high quality and have a great fit. The panties feel fantastic to wear, regardless of model. Bamboo clothing are silky smooth and antibacterial while allowing the skin to breathe. The most comfy women's panties you can imagine.


Beautiful and soft panties

Women's panties should always be comfortable to wear. They should never have a too tight fit, be itchy or irritate your skin in any other way. The fabric used should have a high breathability and have moisture absorbent qualities. Leaving your skin feeling fresh at all times. Removing sweat and moisture to reduce any bad odors during the day. We like the fit to be elastic, so that the panties naturally adapt to your body's shape. Even while wearing clothes. It can be extremely frustrating to constantly have to straighten or adjust your underwear.
Finally we like them to be durable. In order for you to use them for a longer time. At the same time, they should most definitely be responsibly produced. At Copenhagen Bamboo, we set high standards for all our products. Including our women's panties. Our collection of basic bamboo panties is a good example of that. Here you get panties for women that you will love to put on. The colors are neutral and neat. The design is simple and natural, while the fit is absolutely perfect. Combine your new panties with matching tops and t-shirts in the same wonderful quality. Check all our women's clothing here.