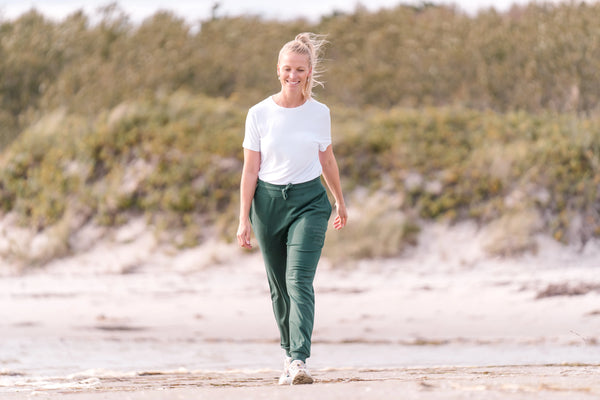 Bamboo Sweatpants Women
Soft sweatpants for her in silky bamboo
Are you looking for comfy sweatpants to wear both at home and out among people? Check out our wide range of women's bamboo sweatpants here and discover the benefits of bamboo clothing. These are high quality sweatpants in a stylish design made from durable materials. When you choose to shop for clothes made of bamboo, you not only get to enjoy a nice fit and style. You also get to discover all the lovely benefits of bamboo fibers. Our sweatpants are made from a perfect blend of bamboo, organic cotton and recycled polyester. Therefore our trousers are silky soft with a high level of breathability. This means that the skin gets to breathe through the fabric. Adding a high level of comfort and avoiding dry or irritated skin. Feel free to match your women's sweatpants with an equally stylish sweatshirt!
Bamboo tracksuit bottoms for women
Soft and cozy clothes come in many forms. A pair of sweatpants, slacks or tracksuit bottoms may be considered as home wear. Only for lazy Sundays on the sofa. But that's very limiting from our point of view. A cozy pair of pants can be so much more. Our women's sweatpants are incredibly durable as well as very stylish. The design is simple and timeless. Wear them whenever you want to. At home, or going out shopping, working out or meeting up with friends. All clothes from Copenhagen Bamboo are made to last longer. Both in terms of the material being durable. But also in the sense that we want you to be able to use your clothes for a longer period of time before having to replace them. Which is also better for the environment. That's why our women's sweatpants and all other bamboo clothing you'll find here in the shop, are made of approved and certified materials. A better choice for your skin, as well as a better choice for our nature and climate.
Matching ladies' sweatshirts and sweatpants
Mix and match your women's sweatpants with our bamboo t-shirts and tank tops or with a matching sweatshirt in the same color. Fill your wardrobe with high quality basics and always have something nice and comfortable to wear. Bamboo clothes are the perfect basics. They are functional, last a long time and are amazingly comfy to wear closest to the skin. See all our bamboo panties, socks and t-shirts for women and bamboo clothing for men. Clothes made from bamboo are suitable for the whole family, as both young and old appreciate the softness and the great fit. The antibacterial properties of bamboo ensure that bacteria do not thrive, which is especially good when it comes to underwear in particular. But it is also a great benefit for anyone with sensitive skin or allergies as the hypoallergenic bamboo prevents skin problems and irritation.