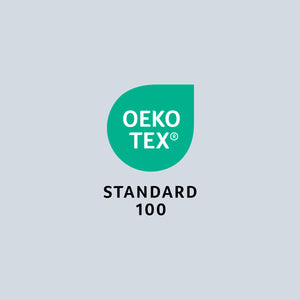 WHAT DOES OEKO-TEX STANDARD 100 MEAN
If an item has the STANDARD 100 mark, you can be sure that all components in this article, ie. fabric, thread, button, zipper and other accessories, have been tested for harmful substances and that the product is therefore harmless to human health.

The test is performed by independent OEKO-TEX® institutes on the basis of the comprehensive OEKO-TEX® criteria catalog. The test takes into account all legally regulated and non-regulated substances that can be harmful to human health. In many cases, the limit values for STANDARD 100 go beyond national and international requirements.

The criteria catalog is updated at least once a year and expanded on the basis of new scientific expertise and statutory requirements. It is not easy for consumers to get an overview of the legal requirements for harmful substances on a daily basis - The OEKO-TEX® institutes do it for you.
WHICH ITEMS CAN BE CERTIFIED
Basically all textile products and accessories in each step of the production can be STANDARD 100 certified, from fibers and threads to fabrics and finished goods. The OEKO-TEX institutes test every single component before the finished article is allowed to bear the STANDARD-100 label.

This includes threads, buttons, ribbons and lining. Prints and coatings used on outer materials are also tested for harmful substances according to the criteria that apply to them. If you want to know more, visit www.okotex.com "Every single component is tested" WHEN IS IT OKAY TO SAY THAT AN ITEM IS OEKO-TEX CERTIFIED?
A company may only write that an item is OEKO-TEX certified if the item has an OEKO-TEX certification label with a number printed on the packaging.