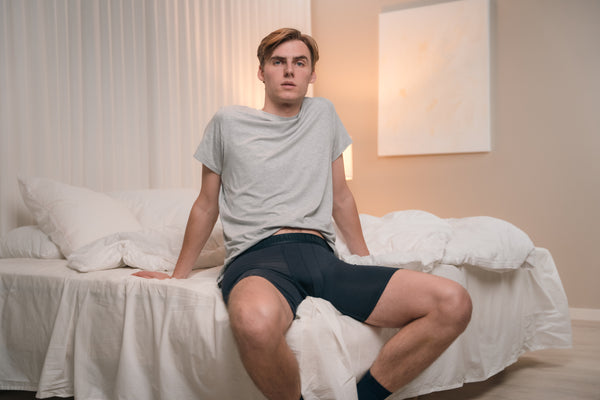 Bamboo underwear for men
Breathable Oeko-Tex bamboo men's underwear

At Copenhagen Bamboo we are working for a better future by making functional everyday clothing with as little environmental impact as possible. That's why you'll find a large selection of bamboo underwear for men right here. We have everything from bamboo t-shirts and boxers to socks in certified quality. All men's underwear is made of Oeko-Tex certified bamboo viscose and is manufactured according to the most environmentally friendly production method available today.
The lyocell method. A method that ensures a closed loop production where residual products are being reused. Bamboo fibers also have a lot of well-known benefits and unique properties. They're i.a. naturally antibacterial. This is of great importance and benefit to nature during cultivation. No pesticides or other harmful chemicals are needed to make the bamboo plant grow. The bamboo clothes are also extremely soft and long. When the fibers are converted into bamboo viscose, the fabric is enriched with lots of microscopic holes. This results in a textile with high breathability and elasticity. That's why our bamboo underwear is incredibly soft and comfortable. With a very stretchy fit. Much softer than e.g. pure cotton. You will feel it yourself when trying a pair of bamboo socks or a bamboo t-shirt for the first time.
Underwear for men with unique qualities

If you compare the properties of bamboo viscose to other textiles, bamboo is superior in several ways. In addition to allowing the skin to breathe and being very stretchy, bamboo is also temperature regulating and antibacterial. Most people know the ability to regulate temperature from wool. Wool feels cooling when it's hot, while at the same time helping the body retain heat when it's cold. Bamboo works in exactly the same way.
But bamboo is also very absorbent and effectively removes moisture and sweat. Making sure a pair of men's bamboo underwear will keep you dry and comfortable. Not only do the antibacterial properties reduce the need for pesticides during cultivation. It also means that bacteria do not thrive in bamboo textiles. Therefore, bad odors associated with sweating are reduced. All these advantages and properties make bamboo a unique and beneficial material. Especially when it comes to clothes. If you're looking for high quality underwear, bamboo underwear is an excellent choice. In addition, the material is gentle to nature.
Make better choices, choose bamboo underwear

High quality, comfort and style doesn't even need to be particularly expensive. At Copenhagenbamboo.com you get good materials and high quality at reasonable prices. We want to make good options available to everyone. It should be easy to find good quality men's underwear without compromising on style or durability.
By looking at the fashion industry with your eyes open and actively choosing men's clothes that are better for you and the environment, we can create a brighter future together. That is one of our main goals! Therefore, we are constantly working to find more gentle materials and production methods. With us, you will always find a wide range of durable bamboo underwear for men in stylish designs and neutral colors. Perfect basic clothes.