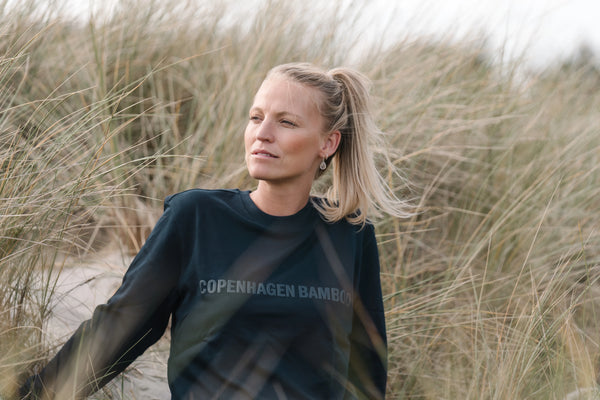 Bamboo Sweatshirt Women
Silky bamboo sweatshirts for her
Our bamboo sweatshirts for women have a stylish design that is suitable for everyday life. Use them for training, work or school. A sweatshirt is a long-sleeved sweater in a soft and lovely material that is easy to style. Sweatshirts are stylish with a pair of jeans but also look great with a sporty skirt or a pair of shorts. Or as an extra warming layer when it's a bit chilly. Simply a grateful piece of garment to have in the wardrobe, since it always comes in handy. When you shop for women's sweatshirts at Copenhagen Bamboo, you get clothing made from well thought out and climate-friendly materials. Our sweatshirts are made of bamboo viscose, organic cotton and recycled polyester. The fabric almost feels like a soft caress against the skin. Perfect for everyone. Also for people with sensitive skin and allergies. Or you who just want to avoid clothes that itch or irritate the skin.
Bamboo long sleeve sweaters for women
Bamboo has become an increasingly popular material for clothing and that's very easy to understand. At Copenhagen Bamboo, we have chosen to invest 100% in bamboo clothes for the simple reason that it's a more environmentally friendly option. The clothing is also incredibly stylish and comfortable to wear. The bamboo fibers from which the bamboo viscose is made, have several advantages that are clearly noticeable when using bamboo garment. First of all, the fibers are extremely soft. In fact much softer than cotton. Secondly, they are very elastic, temperature regulating and moisture wicking. This means that clothes containing a high percentage of bamboo viscose feel silky smooth while allowing the skin to breathe. And just like wool, clothes made of bamboo help the body to maintain a suitable temperature by having a cooling effect when it is hot. And keeping the body nice and warm when it's cold.
Stylish and comfortable sweatshirts for women
The sweatshirts for women that you see here are a perfect choice for anyone who truly cares about the environment. And who wants a stylish and functional style. Copenhagen Bamboo sweatshirts are both Oeko-Tex Standard 100 and FSC certified. The bamboo viscose is produced by the Lyocell method, which is based on recycling residual products from manufacturing in a closed loop. This means that residual products never get out into nature. In addition, bamboo is naturally antibacterial, which means that there is no need to use pesticides when growing bamboo plants. In addition to long-sleeved sweaters, sweatshirts, and hoodies for women, you will also find matching sweatpants in our women's clothing range. But also bamboo underwear and socks in the same high quality and soft materials. For both women and men. You'll find all our men's bamboo clothes here. By choosing good quality clothing, produced in an environmentally friendly way, you are making a good and more conscious choice for the future.