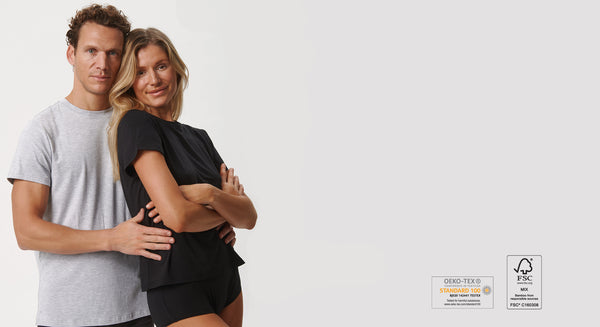 All Copenhagen Bamboo Clothes are FSC® and OEKO-TEX® certified. It means everything to us that our garments and packaging are responsibly produced, both from a social and environmental point of view.
FSC® certified clothing
FSC® is a recognized certification that ensures responsible forestry in all the world's FSC-certified forests. The label sets high standards on all aspects of responsible forestry. Both social, economic, and environmental.

FSC® is based on both nature and human conditions, to ensure good working conditions and forests full of life.

The forest certification is based on the same 10 basic principles, regardless of the country of origin. Therefore, you can always feel safe and secure that FSC®-labelled products come from responsible sources.
Copenhagen Bamboo's license number is FSC® N003469
See all our FSC® certified products here: FSC®
People, nature and climate 
Forests are hugely important to the entire planet. For people, nature, and climate – not least to slow down climate change. Therefore, FSC® is a very important tool in the work of protecting forests for the benefit of future generations.
Through the forest certification, FSC® prevents deforestation, which ensures that the world's FSC-certified forests are preserved. They also ensure good conditions for wildlife, biodiversity, the aquatic environment, indigenous population, and forest workers. They also work to spread democracy, local education, and the right to collective agreements.
This also means that FSC® contributes to 14 out of the 17 global goals of UN and the green transition. FSC® labeled products undergo strict controls throughout the supply chain. From forest to finished product. Each link in the chain is part of a traceability system, which ensures that certified products only consist of materials from certified forests and other responsible sources.

The OEKO-TEX® and FSC® certifications help ensure healthy products without harmful chemicals, good social conditions, fair working conditions, respect for the environment and the Global Goals of UN through the entire value chain
LYOCELL BAMBOO
Lyocell is a sustainable production method, where plant fibers are converted into textile fibers via a chemical process in a closed cycle. Contrary to conventional methods, the closed circuit ensures that no wastewater escapes into nature.
Residual products are also recycled in production, which also requires less energy. Bamboo is both a sustainable and ecological plant, as neither pesticides nor artificial irrigation should be used when growing bamboo. But bamboo is also a hard type of grass and must therefore be broken down and converted into raw cellulose before it can be transformed into a nice soft textile.
The fibers are broken down using an organic non-toxic solvent, methylmorpholine N-oxide (NMMO). The Lyocell method ensures that 99.7% of the residual products are recycled. In contrast to the conventional methods, where nothing is recycled. Therefore, Lyocell bamboo is a responsible choice to produce bamboo textiles.
OEKO-TEX® certified clothing
OEKO-TEX® enables everyone to make responsible choices and protect our natural resources. The OEKO-TEX® certification ensures that all components in a product have been tested 100% free of harmful substances and chemicals.
This applies to everything from the fabric itself to sewing threads, buttons, zips, and other accessories. Therefore, you can feel safe knowing that OEKO-TEX® certified clothing is safe to wear and is not harmful to human health. The certification consists of many globally standardized criteria that each component must meet to be approved.
All criteria are updated at least once a year based on new knowledge or new legal requirements. The tests are carried out by neutral and independent OEKO-TEX® institutes worldwide. The institutes also issue certificates for the products that meet the requirements.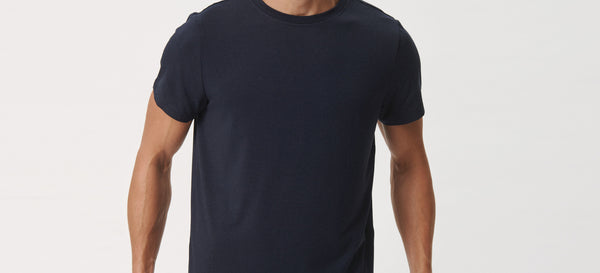 We expect our suppliers and partners to share our vision of a better future through responsibility and transparency.
No harmful chemicals
The certification focuses on consumer trust and product safety. It is crucial for consumers to be able to choose safe and responsible products, regardless of where they come from.
The label also focuses on sustainability and transparency, which is reflected in their different standards. They have created standards for everything from manufacturers, production facilities, dyes, and chemicals to finished textiles and leather.
The standard used for certification of clothing and all types of textiles is called Standard 100. All Copenhagen Bamboo products are OEKO-TEX® Standard 100 certified.
RECYCLABLE MATERIALS AND PACKAGING
We always use 100% recyclable plastic and cardboard packaging from responsible sources. It is extremely important to us that the packaging we use, like our clothes, is responsibly produced.
This is our and your guarantee that the packaging is made under responsible conditions.