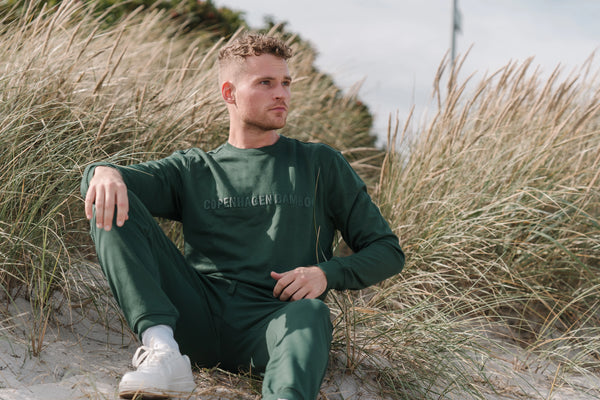 Bamboo Sweatpants Men
Match your sweatshirt with a pair of sweatpants
The perfect outfit and look that works everywhere and everyday. Bamboo sweatpants for men with a matching sweatshirt. Stylish, simple and above all nice looking. A great work-from-home look or training wear. Or just for anyone who prefers to dress casually and comfortably. The garments are incredibly soft and comfortable to wear. All of our Copenhagen Bamboo sweatpants for men are made from silky soft bamboo viscose, organic cotton and recycled polyester. The result is a pair of lovely, high-quality sweatpants that are as stylish as they are durable. These sweatpants or training pants for men are available in the same classic colors as our long-sleeved sweatshirts in the same style. Navy blue, dark green, dark gray and black, and in sizes from XS up to XXL.
Sporty sweatpants with zippered pockets
Our bamboo sweatpants have a sporty and timeless design that never goes out of style. The pockets also have zippers so you don't have to worry about your keys or mobile phone slipping out. Incredibly stylish and smart training pants that are great when you want a relaxed style. The combination of bamboo, organic cotton and recycled polyester gives the garments a number of advantages. Both for you as well as for our environment and climate. Because the clothes contain a high percentage of bamboo, the material acquires certain unique properties. Among other things, the fabric is extremely soft, breathable, temperature regulating, antibacterial and hypoallergenic. If you have sensitive or dry skin, suffer from sweat or bad smell, bamboo clothing is a really good choice. The soft fibers are kind to the skin and never itch. As the skin can breathe through the clothes, it also prevents dry skin and irritation.
Oeko-Tex Standard 100 for more durable sweatpants
Certifications such as Oeko-Tex Standard 100 and FSC testify that only approved materials without any harmful substances are used in our bamboo clothes. That makes Copenhagen Bamboo sweatpants for men a better choice when shopping for everyday basics. In contrast to the rapid turnover of clothing that we see on the market today, our clothing stands for a more long-term mindset. The garment is durable, lasts longer and is kind to both the skin and the environment. And if the clothes we buy last longer, the impact on the climate is also reduced because we use our clothes for a longer time. The natural antibacterial benefits of bamboo fibers are already noticeable when the plant is grown in the fields. There is no need for pesticides to make the bamboo plants grow. So look for certified bamboo clothing the next time you shop for men's sweatpants and make a conscious choice. In our wide range of clothes made from bamboo, we also have men's underwear, socks and hoodies. As well as a broad collection of women's bamboo clothing. You're welcome to explore.