SILKY SOFT AND ANTIBACTERIAL
Bamboo clothes provides a silky soft feeling against the skin and have a soothing effect on dry and sensitive skin.
BREATHABLE AND ABSORBENT
Breathability allows your skin to breathe through the fabric, which is why bamboo clothing feel incredibly light and airy.
COMFORTABLE AND VERSATILE
These valuable and unique properties make bamboo clothing perfect for everyone, young and old.

All Copenhagen Bamboo Clothes are FSC® and OEKO-TEX® certified. It means everything to us that our garments and packaging are responsibly produced, both from a social and environmental point of view.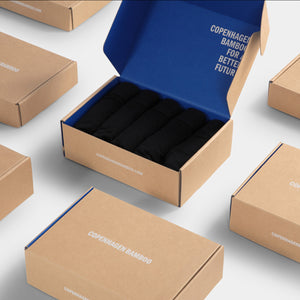 Copenhagen Bamboo
At Copenhagen Bamboo, we seamlessly combine style, comfort, and an unwavering commitment to more environmentally friendly bamboo clothing. Every piece we offer is not only gentle on your skin but also kind to the climate, reflecting a timeless and enduring sense of style.
It's our mission to make it easy to shop for wardrobe essentials that are a conscious step towards a better future! At the same time, our garments are comfy and soft – a better choice for your personal wellbeing too. Our entire collection is meticulously crafted from bamboo, a material renowned for its extended lifespan, hypoallergenic and temperature wicking properties.

By choosing high-quality basics and timeless designs, and avoiding fleeting trends, you contribute to a revolutionary shift in the fashion landscape. A shift that has the potential to significantly reduce the overconsumption of garments.
It means a lot to us, and it is important for the future of the planet as well. We do everything we can to minimize our carbon footprint and make sure that nature is being protected both before, during and after production.
All materials used in Copenhagen Bamboo clothing are therefore OEKO-Tex Standard 100 and FSC® certified. This allows us to guarantee that our bamboo clothing is healthy and that the forests where the bamboo grows are protected and preserved in a responsible way.
Read more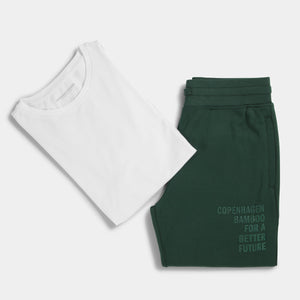 WHAT IS BAMBOO CLOTHING
Bamboo clothing has garnered ever-increasing popularity due to its extraordinary softness and suppleness. Many find it to be considerably gentler on the skin than alternative textiles.
Indeed, bamboo viscose possesses a range of unique advantages. The natural softness and elasticity of bamboo fibers, combined with minuscule microscopic pores, enable the skin to breathe freely. No more itchiness, chafing or irritation – only pleasingly soft and comfy garments.

At Copenhagen Bamboo, we take up the challenge by creating durable essentials and timeless designs that are not dependent on the season. We believe it's time to choose clothes that show how much we care for our environment.
The question of bamboo's true environmental friendliness has prompted much debate. Admittedly, the process of transforming rigid bamboo into pliable textiles necessitates the use of chemicals.

However, our garments are crafted within a closed cycle, utilitating the renowned lyocell technique. This innovative approach facilitates the recycling of chemicals, resulting in a substantially diminished environmental impact.

Read More