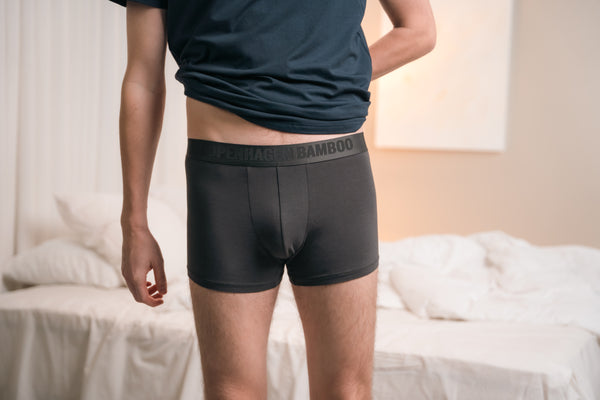 Bamboo underwear for women
Wonderful and breathable women's underwear

In our collections of bamboo women underwear for you will find tank tops, briefs and t-shirts. Everything you need when looking for basic women's underwear. All garments are made of 100% certified bamboo and the material is carefully selected due to its many good properties. Especially when it comes to pieces of clothing worn closest to the skin. Copenhagen Bamboo underwear for women is silky smooth to wear while regulating temperature, reducing moisture and allowing the skin to breathe.
These are some of the advantages bamboo fibers are contributing to when converted into textiles. The high breathability is achieved thanks to the shape and character of the bamboo fibers. They are long and consist of microscopic holes. It gives the fabric the characteristic light and airy feel that we associate with bamboo textile. It also means that the fabric becomes very elastic and that the clothes are stretchable and fit perfectly on the body. Regardless of whether you choose to try our bamboo tank tops, bamboo panties or bamboo women's t-shirts.


Fast-growing bamboo conserves water resources
Bamboo textiles are made from the bamboo plant, which is a fast-growing type of grass. You can grow a lot of bamboo in a short time and because the plant can withstand prolonged drought, no artificial watering is needed. It helps to conserve the earth's water resources. The plant is also naturally antibacterial, which means that pesticides are not necessary for the plant to germinate. In addition, the bamboo plant is rich in nutrients and helps restore the balance in nutrient-poor soils.
Not only do the bamboo fibers become incredibly soft when they are converted into textile fibers. Bamboo clothing also has several other properties that contribute to better environmental conditions. Reduced water consumption combined with fewer pesticides in nature makes a big difference and minimizes the impact on our environment and our climate. Therefore, bamboo is not only a nice material to create clothes from. It is also a good choice for everyone who wants to take responsibility for their own clothing consumption.


100% certified lyocell bamboo underwear
All garments are both OEKO-TEX Standard 100 and FSC certified. That's why you get women's underwear in high quality with consideration for both human health, the environment and the world's forests. It is important to us at copenhagenbamboo.com to make sure all our garments are produced in a responsible manner. Both in terms of materials, social conditions and climate. The bamboo textiles used for our clothes are produced exclusively according to the Lyocell method. It's the most environmentally friendly production method available today.
Lyocell bamboo is manufactured in closed production loops where 99.7% of the residual products are reused. This means that no waste escapes into nature. Experience the difference for yourself by trying bamboo underwear for women and feel how comfortable they are to wear. Chances are you won't want anything else. Our underwear collection is durable and lasts a long time. Use them for a very long time without the underwear getting worn or losing their color. Feel free to wash your bamboo underwear at a low temperature as this further improves durability. Thanks to the bamboo fibers antibacterial properties, bacteria will not be able to survive in bamboo textiles.